Welcome to Christ Church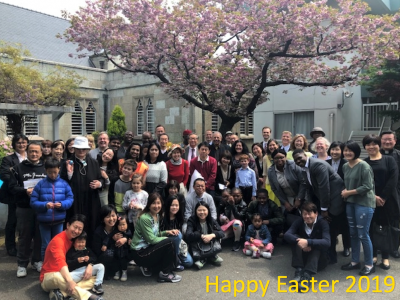 Yokohama Christ Church is an English speaking congregation within the Yokohama diocese of the "Nippon Sei Ko Kai", which is part of the world-wide Anglican Communion. All are welcome to attend services. The congregation at Yokohama Christ Church is a friendly community, representing many nations and denominations joined together in liturgical worship, communion, and fellowship.
Welcome to Christ Church (Covid-19)
You are most welcome to all of our services at YCC at this time.
Due to the current Covid-19 pandemic there are certain things we would like to inform you of:
Congregants are asked to wear masks during the church service including during the singing of the opening hymn
Offertory - during this present time, a box will be provided in the entrance of the church for offerings, prior to each service.
Church Handouts: Please take all handouts received in church back home with you including the bulletin and hymn sheet. Do not leave behind. Thanks so much in advance. 
Thank you for your co-operation at this time.
YCC have a FB page.
Please check it out HERE